If you could build a better house that saves you money, why wouldn't you?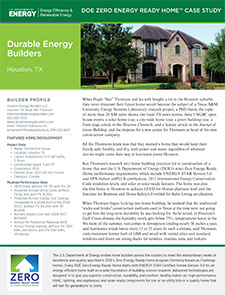 Our goal at Durable Energy Builders is to help save you money while reducing your impact on the environment. Your house is most likely to be your largest investment and your largest monthly expense. Most consumers are more than willing to make changes and do things that cause less impact on the environment. The problem is that these changes turn out to be very expensive and cannot be justified on a cost basis. At Durable Energy Builders, we understand this dilemma. Our programs are designed to assess your needs and provide solutions that not only reduce your environmental impact; but also save you money. Please call or complete the contact form to the left so that we can show you how.




We plan to live here for awhile and we want our home to be as energy efficient as possible. We decided to add the EnergyComplete™ System because we knew we'd be energy effi cient and earn the investment back—and quickly

- Shane and Kim Schrub, Home Owners
Insulation is more than just another home improvement. When done properly, along with sealing air flow, it can save you up to 50% on your heating and cooling energy bills. In addition to these immediate energy savings, now you can get up to a $500 tax credit for qualified energy efficient improvements. The best place to start saving money with an eye toward being environmentally friendly is in your attic. The sooner you call, or request a consult to the left, the sooner you start saving money and start breathing cleaner air.